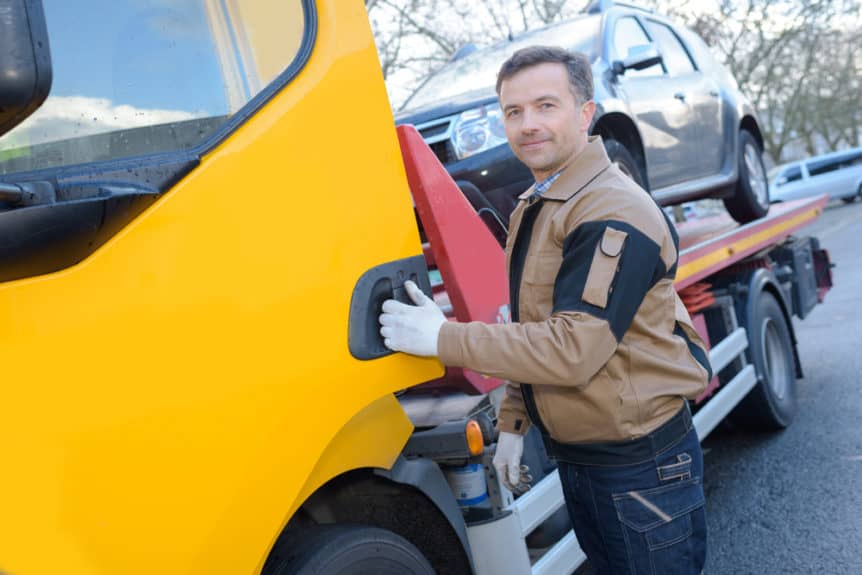 Vehicles are designed to make our movement convenient and comfortable. Though cars are mechanical machines, sometimes a problem in any part of the system can render them immobile. While at other times, people park their vehicles poorly, causing an inconvenience for other drivers. This is where a tow truck driver comes in as a specialist offering various services such as towing accidental, damaged, or abandoned cars. However, the vocation of towing isn't limited to transporting vehicles or other objects. It also includes roadside assistance services to help stranded motorists on the road.
You may also read: Vehicle Brake System: What Are the Different Types and How It Works
Towing and roadside assistance is a very technical task and involves quick execution of different emergency services. For example, hooking a damaged vehicle to transport, offering roadside service like a jump starts a dead battery, recovering cars from ditches, or after accidents. The job is highly intensive, requiring one to undergo comprehensive training and gain experience to handle any situation and become an expert tow truck driver.
A few of the traits of a highly efficient, reliable, and altogether expert tow truck driver are:
Driving Proficiency
It might seem obvious, though having a remarkable driving record is one of the essential traits of a good tow truck driver. Tow trucks are not like the average SUVs or any other vehicles that everyone is generally familiar with and easy to maneuver. Ordinary drivers cannot handle driving a tow truck without proper training and can damage the vehicle during the towing process. To become a tow truck driver, naturally, one must pass a series of licensing programs and certification exams. These licenses ensure that the driver on the truck seat is capable of safely delivering the cargo. Besides, a skilled driver lowers the cost of vehicle operation and is less costly to insure.
Mechanical Skillset
A towing expert driver doesn't only have the skills to drive but can also resolve numerous mechanical problems with virtually any vehicle type. A professional towing company usually has to respond to different roadside emergencies. Therefore, the tow truck driver must be able to perform any mechanical repairs needed on the spot by the client.
An expert tow truck driver is highly adept in dealing with any mechanical faults with the tow truck he's driving while on the road. To become a tow truck driver, one must go through rigorous training, gain road experience, and become familiar with cars, trucks, and SUVs. This tow driver's quality can be beneficial for both the towing service and the client's stuck on the road by offering an immediate helping hand.
Customer Engagement Skills
Customer service and engagement skills are highly beneficial and make the driver be able to communicate appropriately with the clients. A feel of professionalism and politeness can take the company a long way because a satisfied client will always refer others to them. An engaging and polite behavior can also save the company from complaints or possible lawsuits.
Highly motivated and Patient
Professional tow truck drivers are highly motivated and passionate about their profession. They respond quickly to distress calls and can take pressure without distracting to perform a smooth and efficient towing service, ensuring maximum safety and client satisfaction.
Whether stuck in rush hour traffic or on a deserted road, losing your restraint can cause many problems for everyone on the road. Patience is one of the most crucial traits of a tow truck driver. It takes a lot of learning to manage road rage and live up to the people's expectations from a professional towing company. Also, keep in mind, you are bigger than almost every other vehicle on the road, so you better keep your cool. Being calm can help maintain better interpersonal relationships with both clients and coworkers.
Bold yet Cautious
Indeed, it takes a lot of courage and expertise to execute the towing process efficiently in a tense situation effectively. That's why expert tow truck drivers hold a high level of confidence in what they do and can handle the problem effectively.
A trained tow truck driver is always cautious of the surrounding at all times. This way, the driver pays close attention to the client's vehicle, his truck, and other drivers on the road. Also, eyeing any possible obstructions might be a problem in your way, which may further damage the vehicle. An adept tow truck driver knows to stay alert. It's also essential to get enough rest and avoid exhaustion or highway hypnosis during a long-distance towing.
Highly knowledgeable and Experienced
Towing is not just hooking another car with your tow truck and start to drive without knowing what you're doing. An expert tow truck driver has the knowledge and expertise to haul any vehicle appropriately with maximum safety to its destination.
Expert tow truck drivers are highly experienced and efficient in handling any situation on the ground. The driver is reliable and quick in establishing trust with clients to rely on him to get the job done on time.
Holding a License
To be an expert tow truck driver, one has to go through several tests and exams. That includes thorough background checks, vision, other physical examinations, and drug tests to get a license. The license to practice towing and roadside assistance is obtained according to the state regulations.
SPN America Towing offers quick and reliable towing services throughout the United States. You can learn about our comprehensive services or contact us for customized service.