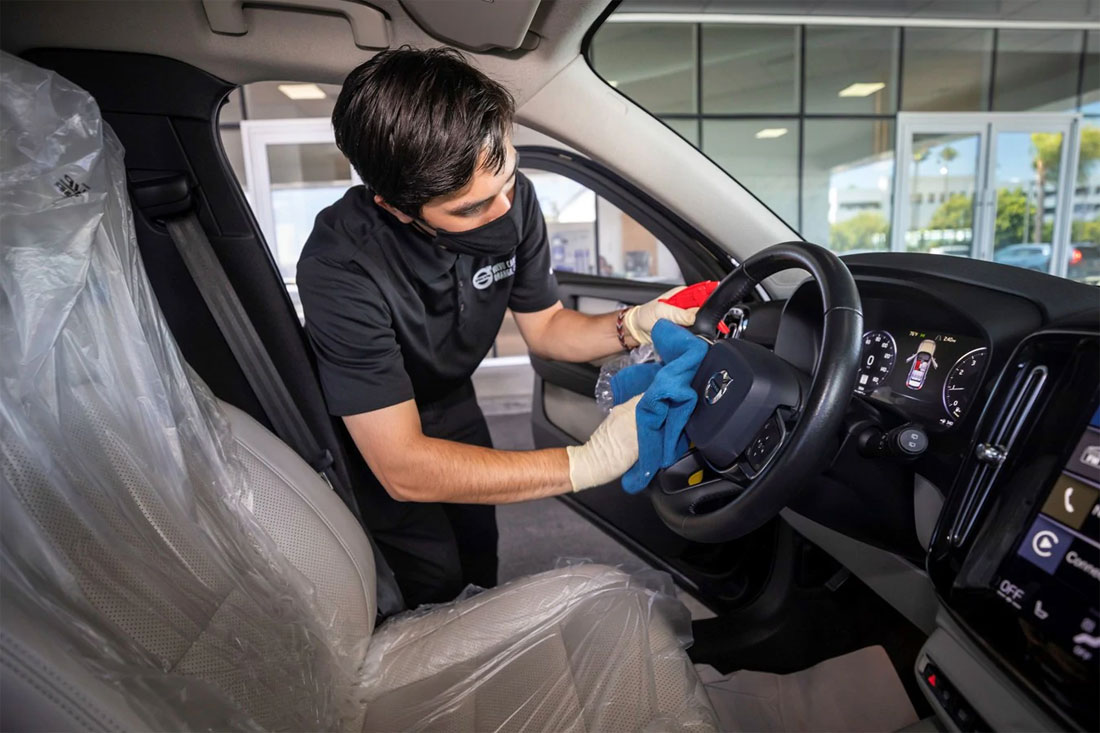 COVID-19 continues to disrupt life throughout the country, leaving everyone to think about effective ways to protect themselves and their families. And as there is a lot of information regarding general hygiene, but the one seeking information on what to do about the vehicles' such as a rented car, a rideshare car you've just hired, or even your own vehicle.
40 high value surfaces you should disinfect in your car
The rapid spread of COVID-19 and its devastating effects have caused everyone to think more about cleanliness. But it isn't clear for an average motorist what exactly to focus on? Fortunately, Spiffy, a vehicle maintenance services company, released a detailed and fantastic infographic showcasing every high-value surface that you should regularly disinfect in your car.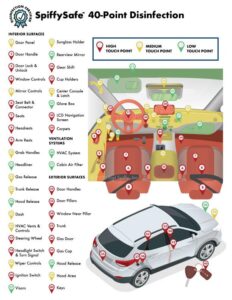 You'll need to clean the spots you mostly come in contacts with, such as the door handle, steering wheel, and dashboard. As Charles P. Gerba, a microbiology and public health professor at the University of Arizona, said, "dashboard is the worst site in terms of the number of bacteria."
Now the question comes, how often should you disinfect your car? While every individual circumstance might differ, the Centers for Disease Control and Prevention recommends disinfecting and cleaning touched surfaces daily.
You may also read : Using car after months of COVID-19 lockdown – Finally back to normal!
Prevent the Spread of COVID-19 Through Transportation
As businesses and communities are scrambling to prevent the further spread of the Coronavirus, transportation is a real concern. Running errands and essential transportation during the pandemic while protecting yourself and your loved ones has become more difficult. However, everyone must follow certain feasible and practical guidelines to stay safe while using public vehicles, ridesharing or taxi services, bikes, and personal vehicles. When using any type of transportation, follow these proactive measures to protect yourself and your loved ones, especially people at increased risk of severe illness from COVID-19.
Hand Hygiene and Respiratory Protocol
Before you begin your journey, wash your hands for at least 20 seconds, or use sanitizer. Perform the same once you reach your destination.
Be mindful and don't touch your nose, eyes, and mouth with unwashed hands or after coming in contact with an outer body prone to virus.
When you cough, cover your face properly, such as use a tissue or advisedly use the inside of your elbow. Throw the used tissue in the trash and wash your hands right after.
Social Distancing
During any kind of travel, maintain a distance of at least 6 feet (approximately two arms' length) from other people (not in your household).
Always Wear a Mask
You should wear a mask in any public setting, i.e., mass transportation, gatherings, and anywhere you are around other people.
Wear masks to help curb the spread of COVID-19.
However, there are a few exceptions where masks should not be used, such as,

Babies and children younger than two years old
Whosoever has trouble breathing.
People who are incapacitated, unconscious, or unable to remove the mask without assistance
Stay Home If Sick
Suppose you're sick or got into contact with a person with COVID-19 recently, awaiting COVID-19 results. You need to avoid using public transportation or, in fact, any transportation options that may put you in close proximity with others, i.e., rideshare, public transit, or taxis. Stay home and only come out for medical care.
However, if public transportation is the only option you have when seeking medical assistance, you should follow strict protocols.

Wear a mask over your nose and mouth
Exercise social distancing and maintain at least 6 feet distance
Practice hand hygiene, use hand sanitizer with at least 60 percent alcohol.
Try to use public transportation during non-peak hours, if possible.
Bring Essential Supplies
Before you begin your journey, pack hand sanitizer and sanitizer wipes to help you readily disinfect your hands regularly.
Wear a mask at all times in public settings or when you're around other people, i.e., riding a bus or train, waiting at the bus stop, or using a ridesharing service.
Carry extra masks and a plastic bag with you. In case your mask gets dirty or wet, put a clean one and put the used one in the plastic bag until you can wash it.
The chief of the Metropolitan Transportation Authority in New York City said "Good hygiene remains the best defense against the novel COVID-19." Only optimum hygiene efforts from the people can prevent and save us from the more significant devastation of COVID-19. However, with rapid transportation, comes the devastating break downs and accidents. And with that comes the vehicle towing and roadside assistance companies.
When you're following so many sanitation protocols, you'd like your towing and roadside assistance company to practice hygiene as well. At SPN America towing network, we are taking every possible and feasible sanitation practice to safeguard the lives of our customers and their loved ones.
Our highly trained tow truck drivers, auto technicians, and repair gurus are proactive in maintaining every COVID-19 protocol and government advisory. You will find our team facing protective face masks, using hand sanitizers, and keeping the social distancing practices to the best extent possible. If your car breaks down or you get yourself into an accident in the pandemic. And are hesitating to call a vehicle recovery service, get in touch with SPN America's extended towing network to get the best service with proper precautionary measures in place.